Regular price
Sale price
$12.00 USD
Unit price
per
Sale
Sold out
Buy 2 and save 10%!
Buy 3 and save 20%!
CLINICALLY PROVEN TO REPEL MOSQUITOES FOR 14 HOURS.
But honestly, long-lasting protection is not enough.
Which is why Fend was thoughtfully created with your skin in mind. This gentle, hypoallergenic lotion is kind to even the most sensitive skin, including babies 2 months and up.
And best yet, it's non-oily. In fact, it's so light you might even forget you've got it on.
HOW IT WORKS...
Fend's active ingredient is ethyl butylacetylaminopropionate. It's a mouthful to say, but it stops bugs getting a mouthful of you. This gentle amino acid sends a strong "buzz off" signal to pesky pests.
But the magic of Fend lies in its slow-release formulation. Extracts from mushrooms and algae form microscopic bubbles to keep the repellent on your skin, not in it.
Let Fend be your "set-and-forget" companion for bite-free days and nights.
Share
Ingredients

Water, Ethyl butylacetylaminopropionate (20%), Citrate, Inert ingredients <1% (Acyclic Alkane, Polyamide, Silicone, Film former, Sorbitan fatty acid ester, Carrageenan, Organic alcohol, Algin, Xanthan gum, Cellulose, Polysorbate, Chitosan, Citric Acid, Preservatives).
How to use

Apply evenly over exposed skin, reapplying after swimming or showering. Rinses off easily in water when protection is no longer needed.
Product specs

Net 50ml lotion
Recycled PET bottle
Made in the USA
GTIN: 9 358645 000000
Shipping

Your order will be shipped within 2 days. National orders take 3-5 days for delivery.
Return policy

This isn't a money grab. If Fend doesn't live up to its promise, just file a return within 30 days of receiving it and we will process a full refund.
View full details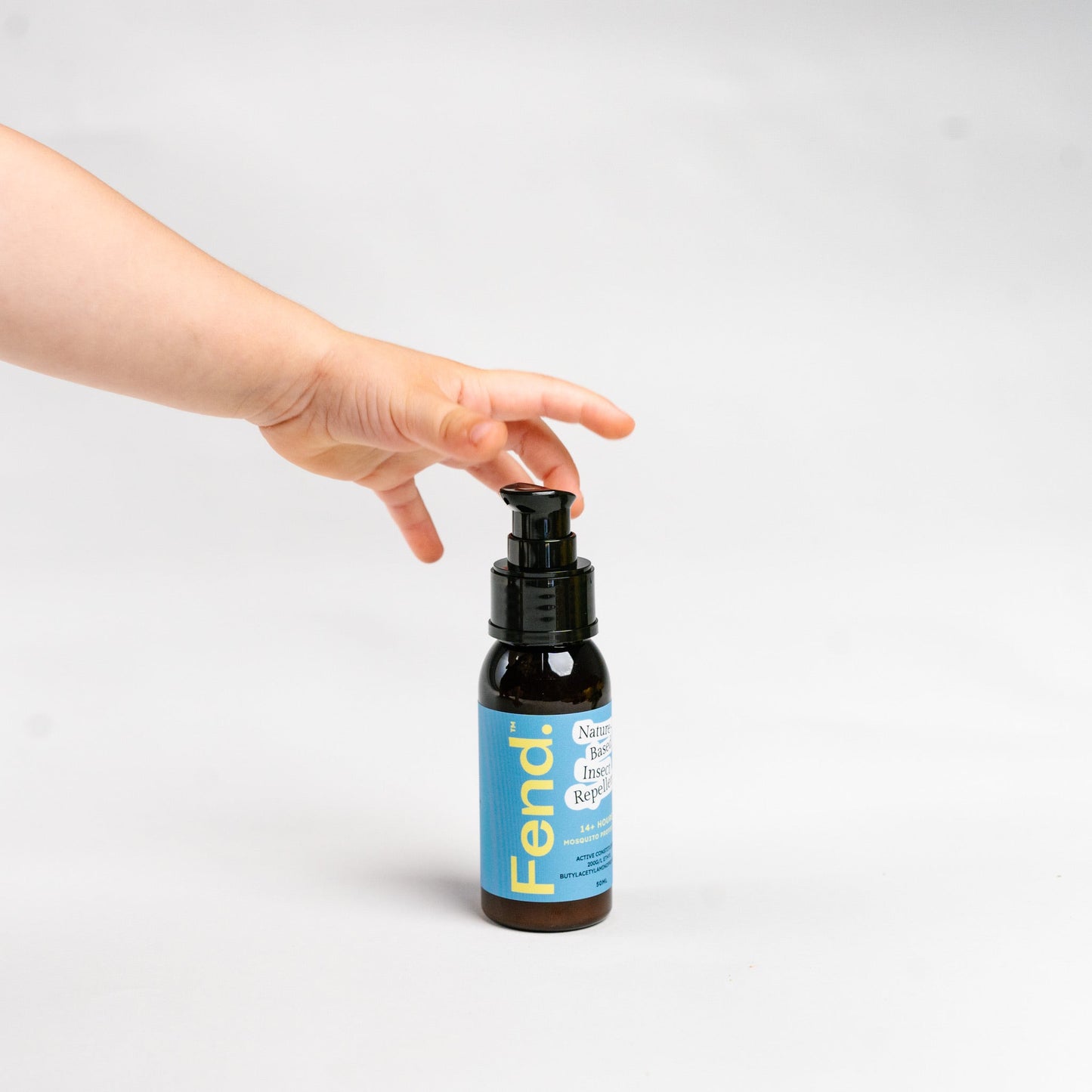 We love Fend!
My husband and I have recently been traveling in various parts of Europe during their summer. Fend became our best friend!
This product really worked as we put it to the test in an area that was experiencing a particularly bad season for mosquitos.
Gentle on the skin, non sticky and not smelly for the win.
Highly recommend ✔️
Not sticky and smelly like other products - highly recommend
Easily the best insect repellent for the entire family, including small bubs
Fend gets 5 stars for so many reasons. Firstly, it works! Secondly, it goes on so easily when wrestling little humans and doesn't smell which is a big win, especially with toddlers. And finally, it's gentle on skin. My son suffers from eczema so a gentle but effective repellent is hard to come by. You won't be disappointed. The current size is great for the handbag or travelling but my only request would be that they had it in more sizes!
Highly recommended!
This not only works perfectly, but it smells so good that I wore it on my wedding day! The lotion spreads easily over the skin so a small pump goes a long way. It also lasts all night if you tend to get mozzie bites while you sleep.
Love this stuff!
Really great for babies, nice texture and doesn't irritate sensitive skin. 2 month old had been getting bitten in bed at night by mozzies but fend is definitely fending them off.
Got a question?
We love hearing from our customers... and unlike those pesky bugs, we don't bite. If you have a question or comment of any kind, feel free to reach out.
Set and forget.

One application protects against annoying mosquito bites for 14 hours. Hard to believe, but true.

For everyone.

As parents ourselves, we don't want to apply harsh chemicals on our precious little one.

Non-intrusive.

There's nothing worse than that oily or sticky feeling. You'll forget you're even wearing it.

Guilt-free.

Fend's ingredients are taken from nature, and go back to where they came from when washed off.